Pregnancy Preparation And Planning
Planning your pregnancy, making sure you have looked at all your options will make your life easier, and allow you to really enjoy your pregnancy and also your birthing experience to the maximum.
We take a look at what you should be looking at when planning your pregnancy and the various aspects of the next 9 months - from choosing a name, to handy pregnancy checklists and even preparing your toddler for the arrival of another baby - all these aspects will make your life much easier, and hopefully allow your pregnancy to run its course without having any unneccessary stress.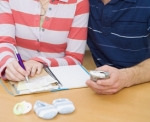 Pregnancy Preparation Articles
Please note: The information provided on this website is not intended to and do not constitute professional medical advice, diagnosis, or treatment. Always seek the advice of your physician or other qualified health provider with any questions you may have regarding a medical condition. Never disregard professional medical advice or delay in seeking it because of something you have read on this website.