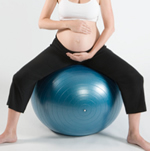 You are sitting at work and although you can see the work in front of you, you don't really. Your eyes are somewhere between being open and closed, and at the moment, you have no idea what you're working on. You look at your watch, and it's only 3 p.m! One of the major and most common
pregnancy symptoms
is the
fatigue
which you will experience throughout your pregnancy. Along with good posture, the most effective way to fight energy lulls is with heavy doses of good stretching and good breathing. You should try and aim for five minutes of mental or physical activity per hour, especially while you are at work. We have some more ideas for you to rejuvenate your mind and body during your pregnancy.
Find a few sturdy, thick phonebooks and do some step aerobics.
Massage your head and shoulders. Find trigger points of tension in the shoulders and base of the skull.
Take two steps back from your desk and lean forward until you're at an angled push-up position against the edge of your desk. Do a couple quick 'press ups'.
Lift 1-3 packs of printer paper in each hand. You could either curl them like weights or lift them over your head.
Close your door and shadow box. Imagining a stressor while you're punching will increase your energy, guaranteed.
Jumping jacks. Simple, quick and pumps you up.
Squeeze a stress ball. Relieves stress while strengthening forearms and wrists for typing.
Try word puzzles. Keep a jigsaw puzzle in your office.
Switch hands with whatever you're doing.
Stand perfectly still for two minutes. Regroup.
When you first arrive at work, take as long as possible before sitting down.
Forget the boardroom. Hold walking meetings.
Hand-deliver mail, memos and faxes.
Chat face-to-face instead of by e-mail or phone.
Use a bathroom on the other side of the building or another floor.
Have a lot of phone time? Buy a cordless and move around while talking.
Give Yourself An Energy Boost
Please note: The information provided on this website is not intended to and do not constitute professional medical advice, diagnosis, or treatment. Always seek the advice of your physician or other qualified health provider with any questions you may have regarding a medical condition. Never disregard professional medical advice or delay in seeking it because of something you have read on this website.