Great Baby Shower Ideas & Games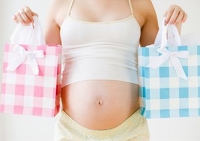 Baby showers can be a lot of work, but they don't have to be if you follow some simple tips to help you get through it. Whether you are a friend/relative of the mommy-to-be or you are throwing the party for yourself, these tips can help make your day extra special without all the hassle.
Prepare a list of friends and family you want to invite to the shower. Don't assume the person throwing your shower knows everybody you want there. You don't want to get there and realize one of your best friends has been left out by accident. Be sure to include everybody's addresses and phone numbers to make the host's life easier. If you are the host, make sure you ask for this list ahead of time
If you are the host and it's going to be a surprise shower, make sure you tell everyone so that they don't spoil the secret.
Make sure that you plan the shower with enough time to spare ahead of the due date. You want to give the parents enough time to unpack all their baby shower goodies and wash all the new baby clothes. Plus, if the baby arrives a little early, they will not miss out on having a shower.
When setting the date, make sure the "most important" people will be able to attend, like the new grandmothers. Consider anyone that may have to travel long distance when figuring out the date.
Figure out the best place to have the shower based on the amount of people that will be invited. If you have a home big enough inside, you can have it there. If you plan on having it outside, take into account the time of year and weather conditions that can affect your outside plans. If you need to move the party inside, make sure you can fit everyone.
Decide what time of day you want to have the party. This will help with the food decisions you will be making. Not all showers have to be in the afternoon or evening. You can have a late morning/brunch baby shower with some great breakfast foods too like bagels, muffins or quiche.
When you are making your food list, make sure you plan for anybody that might have any food issues, such as allergies. Don't forget to plan for your vegetarian friends/family too!
Prepare a list of games you would like to play. Games are a great way to break the ice between guests that don't know each other and add life to the party as well.
Something else which you may want to consider is if you want your party to be co-ed. Baby showers nowadays don't have to be just for the mommy-to-be, but can also include the daddy-to-be and his friends as well. They were there for the creation, why not include them in the celebration of their little miracle as well? It can be a lot of fun to have all these men around and there are so many good baby shower games you could play to involve them in the festivities.. Here are some games that can be played with just the men or with everyone.
Baby Shower Games
Getting to know you game – Have everyone write down something they think that nobody knows about them. See if you can guess who wrote what.
Baby bottle race – Fill up some baby bottles with a drink of your choice and have a race to see who can finish the baby bottle first. This is a good game for the men to play. It really is a lot of fun to watch a bunch of grown men slugging down on a baby bottle.
Doll diapering and dressing- Have the men diaper and dress a toy doll as fast (and correctly!) as they can. You can adapt this game to include both the men and women. Have one man and one woman team together and use only one hand each to work together to diaper and dress the baby.
Dirty Diapers – Crush up some different kinds of chocolate candy bars and place the mess into some disposable diapers. Give everyone a spoon and have them sample and guess what candy bar made the mess.
How big is that belly? – Have everyone cut a piece of string that they think will equal the size of the mommy-to-be's belly.
Now that you have some ideas, you are all set to plan away. The most important thing is that you have fun doing it and not let the stress of it all get in the way
Please note: The information provided on this website is not intended to and do not constitute professional medical advice, diagnosis, or treatment. Always seek the advice of your physician or other qualified health provider with any questions you may have regarding a medical condition. Never disregard professional medical advice or delay in seeking it because of something you have read on this website.