Choosing The Right Maternity Clothing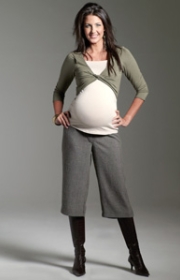 For the first three months of your pregnancy or so you will still probably be able to wear your regular work clothes without even feeling anywhere near being pregnant. However as you pregnancy progresses through your first trimester to the 13th or 14th week of your pregnancy that you may have to leave the top button undone on your skirts and pants. This itself is still easy enough to hide by leaving your shirts un-tucked. Another rather nifty little trick is to loop a rubber band through the buttonhole and then wrap it around the button!
In The Middle
From 14 weeks on you start to enter the "awkward zone". This is where you are not quite looking pregnant, but you will definitely start to put on a little weight. At this stage proper maternity clothes will look way too big on you and so perhaps the easiest way to get through this stage is to buy regular skirts and shorts which have the elastic, or even better perhaps, the drawstring waistbands. Even low rise pants will do the trick for you leaving you feeling as if you are still trendy. Sweaters, long jackets and cardigans, tunic tops, and loose shirts also work well during this transition time, gracefully concealing your growing belly without accentuating it.
Dressing For Work
If your job calls for more formal business attire, then there are five key items which we can recommend:
pants
a skirt
a jacket
a dress
a tunic top
Those pieces can easily be combined for at least 6 different looks, by simply mixing the tunic with the skirt or pants; the jacket with the dress, pants, or skirt; or wear the dress on its own. You could even squeeze a few more outfits out of the mix by adding non-maternity sweaters and tops to the range Often the best source of maternity clothes is from your best friend who has already blazed the baby trail. The more you can borrow, the better, so be sure to ask your friends, relatives, and co-workers for their maternity hand-me-downs. While you're updating your wardrobe for your pregnancy, don't forget about your feet. Many women's feet expand a half size or more during pregnancy. Your balance may be off as your center of gravity shifts with your expanding waistline. You may need to sideline your heels for a few months, trading them in for a comfortable pair of flats or shoes with wide, chunky heels.
What about more formal occasions?
Black is slimming, it's seasonless and it goes with everything. You can also make a basic black dress suit any occasion by adding the right jewelry, shoes, handbag, and even a wrap, and better yet is that these are all items that you probably already own. If you have a gala event to attend and want to wear something really special, see if there are any businesses in your area that rent special maternity clothes. Everything from full-length Ball gowns to Halloween costumes can be rented surprisingly!
Please note: The information provided on this website is not intended to and do not constitute professional medical advice, diagnosis, or treatment. Always seek the advice of your physician or other qualified health provider with any questions you may have regarding a medical condition. Never disregard professional medical advice or delay in seeking it because of something you have read on this website.