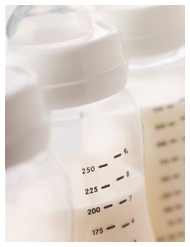 So now that you are pregnant and expecting a bundle of joy in the near future, you need to get yourself all set for the baby's arrival. This can be a very overwhelming task for any new mom or dad. With the huge amount of different baby products out there, how are you supposed to know what you may or may not really need? Some items may be considered a necessity, especially things that will be used for taking care of the baby's basic needs. Other items, you may not necessarily need, but come in very handy in helping you care for your child. Plus, they may bring a little bit of sanity to your new, crazy life. One of the best things you can do is find products that can be used multiple different ways. A good example of this is a convertible crib. This is a crib that can be first used as a regular infant/baby crib, converts to a toddler bed and then can be eventually used as a headboard for an older child. This will save you money in the long run since you won't have to keep going out and buying different beds. Another good multifaceted item to get is an all in one playpen. Not only does this serve as a playpen down the road for your future toddler, some of them serve many other functions as well. You can find ones that have removable bassinets, removable changing tables and removable diaper organizers. If you can't afford to buy each of these items separately, this is an extremely useful and economical way to go. You will be able to convert it to fit your needs throughout your baby's various stages. Yet another great item to start out with is a bouncy chair. These can be relatively inexpensive if you buy one without all the bells and whistles. One that has a vibration option is really useful as it can help soothe a fussy baby. It comes in very handy when you need to have your hands free and you want someplace safe to put your baby. They are great because they can be moved easily from room to room as you go about your daily chores. Bouncy chairs are also a good place for baby naps, especially if your baby has reflux and needs to be propped up a little bit while they sleep. The above two items are more of a luxury than a necessity, but one item you will definitely need to get, is an infant car seat. The hospital will not let you take the baby home unless you have one installed in your car. Travel-systems that come with a car seat and a stroller work really well because you can move the baby from the car to the stroller without actually having to take the baby out of the seat. This is really great when the baby is sleeping and you don't want to wake them. Also, they are usually a bit cheaper than buying these two items separately. Some of the smaller items that you might need right away for the baby could include:
Diapering items – diapers, wipes, diaper rash cream, changing pad, diaper pail
Diaper bag – should be able to hold a few diapers, wipes, changing pad, a change of clothes and some feeding supplies
Bath items – baby bath, shampoo and/or head to toe body wash, body lotion, towels, baby bath, bath thermometer, wash cloths
Baby care items – Brush/comb, nail clippers, nail file, thermometer, nasal aspirator, cotton balls
Baby Monitor Medicines – Fever/pain reducer, gas drops, medicine dropper, saline (to help clear out nose congestion)
Clothing – onesies, pajamas, daytime outfits, socks, hats, mittens (to prevent scratches), sleep sacks (work great instead of blankets), bibs, burp cloths, gentle laundry detergent
Bedding – blankets, waterproof mattress cover, crib sheets, playpen sheets (buy extra in case the baby has an accident in the night or in the playpen)
Bottle Feeding supplies – bottles/nipples, bottle brush, insulated bottle holder
Breast Feeding supplies – pump, storage bottles and/or storage bags, nipple cream, breast pads, support pillow, nursing cover
Shopping for baby doesn't have to be stressful if you are prepared. If you are on a budget, stick to the necessities first. After that is out of the way and if you have money left over, go ahead and buy those extra things you really wanted. Recommended article:
Baby Products You Can Do Without
Baby products to get you started
Please note: The information provided on this website is not intended to and do not constitute professional medical advice, diagnosis, or treatment. Always seek the advice of your physician or other qualified health provider with any questions you may have regarding a medical condition. Never disregard professional medical advice or delay in seeking it because of something you have read on this website.