Essential Baby Accessories You Should Think About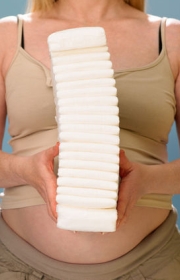 There really is sooooo much to buy for baby, but do you need it all? People may tell you that all of these fantastic nifty little baby accessories are great and that you simply will not be able to survive without them. Perhaps the best advice comes from those who have had children, as they are usually the ones to give you the best advice, not a sales pitch. We take a look at what the basics are that you will need to get you going. We also have those little tips that make the difference.
Just The Basics of Baby Accessories
Either way you look at it, there are a few basics which you are going to need:
A place to sleep
a safe seat in the car
clothes to wear
diapers
Some key items for eating, getting around, and staying safe.
Clothing
In general, you want soft, comfortable clothing with no irritating tags or seams. Remember that you are also going to be changing your baby's clothing several times a day, so you will want to make sure the outfits are easy to open and remove. New born babies grow extremely quickly, so but outfits which are at least 3 months ahead, unless you want to be buying new clothes every week! You will also want to keep some new born sized clothes around, just because they are so darn cute, and your baby will feel more comfortable in the first few weeks in new born sizes.
4-7 One-piece outfits.
4-7 One-piece pyjamas or nightgowns.
4-7 Cotton shirts.
1 Sweater or jackets.
Fleece wear or snowsuits for winter babies.
4-7 Socks and booties.
1-3 Caps or bonnets
Diapers
Most of your first few weeks with your new baby will be spent changing diapers, so be prepared. Decide which kind of diapers you want to use and stock up ahead of time, keeping in mind that you'll be going through 10 to 12 diapers each day during the first few weeks. If you plan to use disposables, the it is a good idea to start of with at least three large packs, which should give you about 150. This may sound a lot, but if you are changing 10 a day, its only 15 days worth! If you plan to use cloth diapers, then you will need to keep six to ten packs, about 12 diapers per pack, of pre-folded diaper-service-quality diapers. For cloth diapers you are also going to need a diaper pail, diaper covers, and rubber pants.
Getting around
When it comes to getting around, there is very little which beats a front pack or sling. Newborns love being held close. The warmth of your body and the thump of your heart will soothe like nothing else. Using a pack or sling also leaves your hands free to do other things. A Stroller. For new born babies you will want to have a stroller that reclines, as babies should not be propped up right until they are about 3 months old. New born babies spent the majority of their time sleeping, so having a stroller that reclines fully is great. You will also want to make sure that the straps are adjustable. Car seat: The law requires that your child sit in a car seat while riding in any car, even on the way home from the hospital. For a newborn, you have two choices: an infant seat designed to be used until your baby weighs 20 pounds, or a convertible seat, designed to be used by both babies and older children (though not at the same time).
Mealtimes
Have at least 4 bibs. Bibs keep spit-up and drool off clothes. Even if you plan to breastfeed exclusively, having a few bottles and newborn nipples at home is always good idea. If you plan to use formula exclusively, you'll go through roughly ten 4 ounce bottles a day.
Sleeping
The crib. You can get by without a crib for the first few weeks at first, but unless you plan to have your baby share your bed permanently, you'll need a crib eventually. You'll also need a firm mattress, a couple of sheets, and blankets.
Bath Time
Get yourself a plastic bathtub. Using a tub specially designed to hold a wriggling baby will keep yours safe and give your back a break as well. For Mom Yes, there are a few items which you are definitely going to need during the first few weeks.
2-4 Nursing bras. Pregnancy changes the size and shape of your breasts, and so it pays to buy nursing bras from a store or catalog that takes returns. For comfort, buy 100 percent cotton without underwires. Some nursing bras unhook from the strap and others unsnap between the cups. You may want to try a couple of styles to see which you like best.
Disposable or washable nursing pads. Simply insert two of these in your bra can keep your shirts dry between feedings. Like diapers, pads come in both cloth and disposable styles. For disposables you will want to look for pads with a self-stick strip.
Maxi-pads/Panty liners: You'll want a couple of boxes of overnight-quality maxi-pads. When the lochia discharge slows, usually within two or three weeks, you'll also want a couple of boxes of panty liners.
Best Places to Shop For Baby Accessories?
These our own personal favorites of where to shop to good quality baby accessories at good prices:
Please note: The information provided on this website is not intended to and do not constitute professional medical advice, diagnosis, or treatment. Always seek the advice of your physician or other qualified health provider with any questions you may have regarding a medical condition. Never disregard professional medical advice or delay in seeking it because of something you have read on this website.