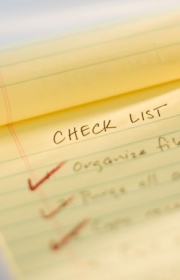 Do you get that feeling that you are missing something? That there is something on your list of things too do and get that you just seem to be forgetting? Perhaps its just that you are feeling a little overwhelmed with everything, especially the hundreds of "best" baby products which are out there on the market.
Well you needn't worry anymore! We have put together a series of tried and tested checklists for you to ensure that you have not forgotten anything.
Ten Questions to Ask Your OBGYN
Which hospitals do you work in?
How many doctors/midwives are working with you?
Are you planning any trips around the time of my due date?
If you are not available to deliver my baby, who will step in?
Can I meet the substitute?
At what point during labor can I arrive at the hospital?
How do you deal with emergency calls?
What is your fee structure, and how soon after your birth will you be expecting payment?
What portion of your fees can I claim from my health insurer?
If my labor turns out to be straight forward, are you comfortable with birthing preferences?
Baby NurseryChecklist
Basinet and/or cot
Change table
Set of drawers
Baby monitor
Night Light
Radio (Some babies prefer background noise)
Waterproof mattress protector
Server al sets of basinet and/or cot sheets
Two cotton blankets
Three wraps
Comfortable chair for feeding
Small table for next to chair
Clothes Hamper
Early Labor Signs Checklist
Lower back pain , which can radiate down the legs
Period like pain
Diarrhoea
Nausea or generally feeling ill
Losing the mucous plug
Waters breaking
Contractions
Baby Bath Time Checklist
A warm room
so that baby wont be uncomfortable when being dried and dressed after the bath.
Plastic bath tub
with a drainage plug. Small babies can even be bathed in the kitchen sink.
Bath stand
or non slip mat to sit the bath tub on.
Rubber mat
to put in the bath to reduce slipping
Hooded towel
to wrap your baby in after the bath
Soft towel
to lay baby on while dressing
Socks/Booties
Singlet or jumpsuit
You can also try baby nighties, which are great for middle of the night nappy changes
Nappy
Babies, especially boys have the habit of weeing before the nappy is on, so be sure to have one handy
Nappy cream
Cotton buds