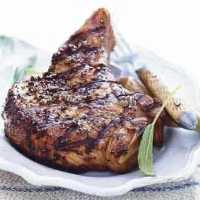 These spicy and moist pork chops are made with no added fat, egg whites, evaporated skim milk, and a lively herb mixture. Makes 6 Servings
Ingredients:
6 lean center-cut pork chops, 1/2″ thick
1 egg white
1 cup evaporated skim milk
3/4 cup cornflake crumbs
1/4 cup fine dry bread crumbs
4 teaspoons paprika
2 teaspoons oregano
3/4 teaspoon chili powder
1/2 teaspoon garlic powder
1/2 teaspoon black pepper
1/8 teaspoon cayenne pepper
1/8 teaspoon dry mustard
1/2 teaspoon salt
as needed nonstick spray coating
Nutritional Information
| | |
| --- | --- |
| Calories | 195.1 |
| Fat | 7.3g |
| Carbohydrate | 7.3g |
| Protien | 23.6g |
1. Trim all fat from chops. 2. Beat egg white with evaporated skim milk. Place chops in milk mixture and let stand for 5 minutes, turning chops once. 3. Meanwhile, mix together cornflake crumbs, bread crumbs, spices, and salt. 4. Spray a 9xl3-inch baking pan with nonstick spray coating. 5. Remove chops from milk mixture. Coat thoroughly with crumb mixture. 6. Place chops in pan and bake in 375º F oven for 20 minutes. Turn chops and bake 15 minutes longer or till no pink remains.
Please note: The information provided on this website is not intended to and do not constitute professional medical advice, diagnosis, or treatment. Always seek the advice of your physician or other qualified health provider with any questions you may have regarding a medical condition. Never disregard professional medical advice or delay in seeking it because of something you have read on this website.