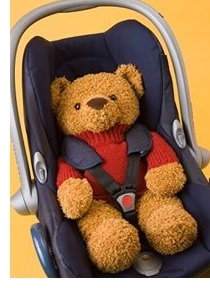 One of the most important purchases you will be buying for your baby is a car seat. Most hospitals will not even let you leave with your newborn without first inspecting the car to make sure there is one installed. Just like all the other baby products, there are a few different car seats out there to choose from. There are both pluses and minuses for each different style seat, so you will need to figure out which will work best in your situation and with your budget.
Infant Car Seats
This is the type of seat you use for a newborn/infant only.
Comes with a car seat base that you install and leave in the car. The car seat snaps into the base so that you can put the baby in the car and take them out quickly and easily without having to remove them from the car seat itself. This is great when you want to move around a sleeping baby without waking them.
You can purchase extra bases to install into multiple vehicles.
Weight minimums/maximums differ depending upon the manufacturer. There are some of these car seats that will accommodate preemies as low as 2 pounds. Others have a minimum weight range of about 4-5 pounds. Some allow children up to about 30 pounds and others can only be used up to around 22 pounds or so.
Some are sold as a set along with a stroller (travel systems). Others can be used with stroller frames. Check to see their compatibility before purchasing.
Can only be used for a short period of time before you need to switch over to a larger car seat for your soon to be toddler.
All in one / convertible car seats
These car seats grow with your child. You first use it as a rear facing infant seat, then as a forward facing toddler seat and finally as a booster seat for older children.
Have removable inserts/head supports to use for infants.
Installs directly into the car without the use of a base.
Have larger weight maximums, which allow you to use the seat for a longer duration. These weight maximums can vary greatly, so be sure to check those out.
Are usually more expensive at first, but can save you money in the long run because you will only need to buy one seat.
Booster Seats
Used mostly from toddler age up to about 10 years old.
Some have built in harnesses for younger travelers and then convert to seat belt use for older kids. Others can only be used with the cars' seat belt.
Some have backs with head support and others are backless.
These are not made to be used for small babies so you will first need an infant car seat when your child is a baby.
Car Seat Safety Features
No matter which type of car seat you decide to buy, there are several important features which you should be aware of.
LATCH – Available in all newer cars. This system allows for a much quicker and easier car seat installation. The car seat will come with a belt that has a clip on each end. Each end attaches to a metal bracket that is located in the crease of the car's seat. If you have an older car, you can still use the seat belt to attach the car seat to the car.
Top tether – A strap that may be attached to the top of the car seat. It has a clip on the end that attaches to a metal bracket behind the car's seat. Helps stop the car seat from shifting.
5 point harness – The restraint system in all newer car seats. This is the number of points that all attach together in the center from different parts of the seat. These help keep the child properly secured to the seat in the event of a crash.
Adjustable headrest – allows the seat to "grow" along with the height of your child. Handle (infant car seats only) – The handles are shaped differently depending upon the make. Some are easier to hold than others.
After you have chosen which type of car seat you want to get, you will need to read all the directions to make sure you install it and use it properly. It doesn't matter how good a car seat is rated…if it is installed incorrectly, it is not going to protect your baby as well as it should. There are many places that offer to install the car seat for you or check to see that you have installed it correctly. If you are unsure, have a professional do it for you, so you can rest at ease knowing your baby is protected.
Please note: The information provided on this website is not intended to and do not constitute professional medical advice, diagnosis, or treatment. Always seek the advice of your physician or other qualified health provider with any questions you may have regarding a medical condition. Never disregard professional medical advice or delay in seeking it because of something you have read on this website.