Baby Nursery Decoration Ideas and Tips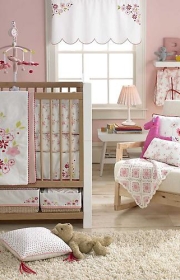 Decorating and kiting out your baby nursery is a fun thing for you and your partner to prepare for your baby. I know that I certainly enjoyed decorating our nursery. There are so many fantastic themes and products out there that you can really go crazy and be creative. However, baby furniture is expensive, especially if you are buying the higher quality furniture and accessories. When you set out to begin decorating your baby nursery it is a good idea to set yourself a budget on what you are willing to spend, but before setting your budget, take your partner and go do a little bit of window shopping so that you have a good idea of what all the accessories and gadgets for your nursery are going to cost.
Baby Nursery Must Haves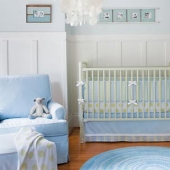 Below is a recommended list of what you will need in your nursery when your new born baby returns home: 1. Bassinet or crib 2. Bedding Sheets 3. Toiletries, such as a brush, nail clippers, nasal bulb syringe, thermometer, preferable rectal or ear type, diaper rash ointment, baby powder, baby wash, cotton balls and petroleum jelly. 4. Changing Table 5. Diaper Bag & Diapers 6. Lamp 7. Rocking chair or other comfortable seating. These are the basics of what you will need in order to allow you to take care of your baby. There are of course many other great products which you can use, but this depends on your budget which you have set.
Choosing Colors for your baby nursery
Your choices when it comes to picking out a color scheme for a room in your house may seem rather daunting. The best way is to go about looking at other nurseries, either online, or at a baby nursery supply shop. Once you have decided on a color scheme, bring some samples home. Look at them at different times of the day, and in both natural and incandescent light. As you make decisions on the placement of colors in the room, keep in mind that darker colors will tend to fade over time more than lighter ones. Be sure to take into consideration any existing pieces that will remain in the room as well as the various wood finishes present as well as any new accessories which you may buy.
Monochromatic
For a calm, quiet room, select a neutral color and apply different shades or values of that color to the various elements of the room. This is a popular approach as it allows you to vary the look of the room by changing the accents and accessories. Add interest to the room with the use of a variety of textures on the floor, walls and furniture.
Related Colors
For a relaxing effect, select a color scheme composed of related colors: greens and blues or rose and peach are two examples of this approach. Keep the values (strength) similar for a pleasing look. Use a color wheel to help you select colors that are similar (adjacent).
Contrast
A stimulating, lively environment is created by using colors that are in contrast with one another. You can select similar colors (as above) in their dark, vivid hues, or select complementary colors-those opposite one another on the color wheel. Either way, the effect you achieve is attention-getting.
Custom Baby Furniture
A big craze at the moment is to have custom designed furniture in your nursery. Hand painted theme wooden furniture and accessories are great, and allow you to create a personal touch to your nursery. Surprisingly, custom baby furniture is not as expensive as you may think. You may want to read our
baby nursery checklist
article, or take a look at this
baby nursery step-by-step decorating guide
for more tips and ideas on preparing your baby's room for the new arrival.
Please note: The information provided on this website is not intended to and do not constitute professional medical advice, diagnosis, or treatment. Always seek the advice of your physician or other qualified health provider with any questions you may have regarding a medical condition. Never disregard professional medical advice or delay in seeking it because of something you have read on this website.