If this is your first pregnancy, then I am sure that you may be feeling a little overwhelmed by what you can expect in the first few weeks post pregnancy.
How will you feel, how much time will it take for your body to recover etc. We take a quick look at the first 6 weeks, what you can expect, what you should be doing and a brief look at what your newborn will be doing.
We also look at the time old question of post pregnancy weight loss. What you can do, what you cant do and how long you can expect for your body to return to its old self - realistically.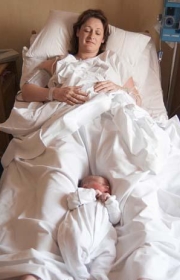 Your Baby's First Year Development Guide

Dont forget that you can also follow your baby as he or she develops through to the first 12 month. Get great food ides for first solids, and progress all the way through.
There are also great articles to show you how you can help your baby learn through each stage of development as well as great baby videos which cover a numner of topics.