Your Fourth Week Home With Baby Post Pregnancy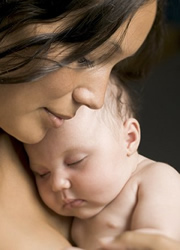 What you may feel
Your muscles should be feeling much better by now.
You should be regaining control of your bladder
Your baby should be settled into a routine by this stage
You may have your first menstrual period at any time now.
Blood in your urine, or dark and cloudy urine could be signs of a urinary infection.
You may want to start doing some light exercise now, such as walking.
What you should do
Check on your post partum appointment.
A night out with your partner may be a good idea, so get the grandparents involved.
You may be returning to work soon, so spend as much time with your new born.
Although your muscles may be feeling better, it may still be easy to pull or strain a muscle, so be careful.
Keep making note of any questions that you may have for your post partum checkup.
BABY'S FIRST YEAR!!!
Our Baby's First year section gives a detailed breakdown of your baby's development, week by week. It covers useful and informative information such as:
Your baby development milestones
Advice and tips on feeding baby
A Guide to Caring for your baby
Health issues which your baby may experience
And much much more.
Be Sure To Read Our Section On
Baby's First Year!
Please note: The information provided on this website is not intended to and do not constitute professional medical advice, diagnosis, or treatment. Always seek the advice of your physician or other qualified health provider with any questions you may have regarding a medical condition. Never disregard professional medical advice or delay in seeking it because of something you have read on this website.