Your Second Week Home With Baby Post Pregnancy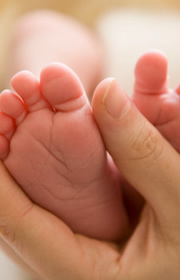 What you may feel
Your breast will still be sensitive and hurt, even if you are not breast feeding.
Hemorrhoids will still be painful, but they are starting to get better.
Your legs and feet will start returning to normal size as water retention starts to diminish
You may be starting to get better at feeding your baby, and he/she may already be starting to get into a more manageable routine.
You may not have fully gained control of your bladder fully.
You will probably be feeling tired still.
A foul odor or yellow vaginal discharge may indicate a problem, so if you should show any of these signs, call our doctor
What you should do
By now you should almost be able to see your feet, so look at them!
Write down any questions that may have for your baby's first with your doctor.
Enjoy your time with your new son or daughter.
BABY'S FIRST YEAR!!!
Our Baby's First year section gives a detailed breakdown of your baby's development, week by week. It covers useful and informative information such as:
Your baby development milestones
Advice and tips on feeding baby
A Guide to Caring for your baby
Health issues which your baby may experience
And much much more.
Be Sure To Read Our Section On Baby's First Year!
Please note: The information provided on this website is not intended to and do not constitute professional medical advice, diagnosis, or treatment. Always seek the advice of your physician or other qualified health provider with any questions you may have regarding a medical condition. Never disregard professional medical advice or delay in seeking it because of something you have read on this website.