Relieve Stress During Pregnancy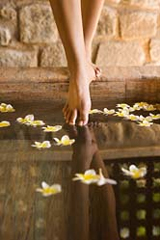 No matter how organized or prepared you may think you are, no matter how good your systems are, or how friendly your work and living environments may be, stress can, and WILL, find it's way to rear it's ugly head at some point. When this happens, what can you do? Turn to a convenient stress buster – a small, yet simple activity that clears your head and calms you down. When you feel a stress attack coming on, that's the perfect time to turn to one of these busters and kick that stress out the door.
Here are our favorite stress busters
Take a walk If the office or your house is starting to drive you up the wall, or the walls feel like they are closing in, then why not go out for a short brisk walk. Exercise is one of the best stress relief methods which we recommend and you will be surprised just how good you feel afterwards. The added bonus to using this as your form of stress relief is the benefits for your health, body and of course your baby.
Call a friend We all have someone that just lifts us up and gives us strength, whether it's just the sound of their voice, or some of the jokes they may have. Give them a call and let them take a load off your chest.
Write in a journal Often expressing yourself is also a good way to help relieve your stress and one of the best ways in which to do this is to keep a journal. Not only will it help you reduce your stress levels, but you will also be able to go back one day a read your thoughts and feelings during your pregnancy.
Play a board game Board games are great for spending quality time with your family and friends and they are also a great way to forget about the stresses of life.
Plan something fun Planning something fun and different will make you forget about the stress you are feeling before you even know it. It doesn't need to even be a trip, it could be something simple as making that funky dinner you were thinking about a few months ago.
Take a nap Is there a better cure for stress? Possibly, but perhaps having a good old fashioned nap is just what the doctor has ordered.
Please note: The information provided on this website is not intended to and do not constitute professional medical advice, diagnosis, or treatment. Always seek the advice of your physician or other qualified health provider with any questions you may have regarding a medical condition. Never disregard professional medical advice or delay in seeking it because of something you have read on this website.