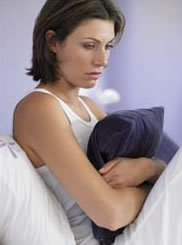 Unfortunately for some, having a healthy baby simply doesn't bring the joy we all assume that new mothers will automatically feel.
It is also completely out of their control and not something which they choose to feel, or plan to feel. The particular symptom we are referring to is Post Partum Depression.
Approximately 80% of women will experience what is commonly referred to as the "baby blues" after giving birth, yet only one out of every eight-ten will experience a more severe form of the baby blues known as post partum depression.
What is the difference between Post Partum Depression and Baby Blues?
The baby blues are more commonly associated with a short term sense of sadness after birth which will usually only last for about 2 weeks. This is quite common, especially after the excitement of pregnancy and the drama of giving birth. Post Partum Depression is much more serious. It does not always show signs right after birth and it can affect anyone.
Warning signs of Post Partum Depression
Constantly feeling restless
Irritability that doesn't fade day after day
Feelings of sadness that last more than a few hours or an entire day
Frequent and unexplainable crying
Persistent lack of energy
Inability to sleep despite fatigue
Weight loss/gain that is extreme
Feelings or fears that you will harm your baby
Guilt
Feelings of inadequacy
Excessive anger
Lack of interest in your newborn
Intrusive thoughts
Post Partum Depression is extremely serious and should not be underestimated at any time. If you (or your partner, for husbands reading), show any of the symptoms mentioned above you need to seek help as soon as possible. Post partum depression can be treated and it should be treated before anything untoward happens to anyone.
Look After Yourself
Rest as much as possible
Talk to your partner about your fears and concerns
Talk to your doctor
Be around other people as much as possible
Find a support group of other mothers or talk to friends that also have children for support
Take some time to get dressed and fix your hair. Enlist the help of your partner when you need it.
It does appear that there are some people who may be more at risk of suffering PPD than other women, and some of these include:
If you have a family history of depression
Have recently experienced events that were unusually stressful while pregnant or shortly after birth
Single mothers are also more at risk. Be sure to reach out to friends, family members and even your doctor who might be able to recommend a community support group for you to get involved with.
If you would like more information on Post Partum Depression, please use one of the following resources here:
Center for Postpartum Depression