Gaining Too Much Weight During Pregnancy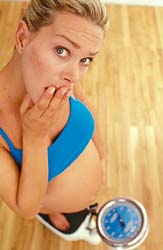 We all know just how closely your weight gain during your entire pregnancy is going to be monitored by your healthcare provider. They will make sure that your weight gain is just right – not too little and not too much. But what happens if your weight gain is deemed to be too much, how will this effect your pregnancy and your baby?
What are the risks of being overweight during pregnancy?
One thing that the medical industry is aware of is that obese women have a higher percentage of complications than women who are slimmer, or whose weight gain is correct. Some of the complications which are more commonly experienced by obese women during their pregnancy include:
A higher incidence of gestational diabetes – five times more common than the average weight women.
Twice the risk of delivering children who will suffer from diabetes.
At increased risk for pre-eclampsia and eclampsia.
Cesarean section is performed much more frequently.
The higher levels of free fatty acids can hinder intellectual development in their children. A higher rate of urinary tract infection in pregnancy.
Babies tend to be overweight or glucose intolerance. Both of these increase the chances that the child will develop childhood obesity.
Have a higher rate of premature labor.
A higher chance of late fetal loss, as well as a higher chance of stillbirth.
A larger risk of malformations.
Keeping the extra weight off during pregnancy
The starting point of maintaining a healthy weight gain during your pregnancy is to follow a recommended eating plan and to exercise on a regular basis. If you are overweight at the beginning of your pregnancy, or are gaining too much weight too quickly, your healthcare provider may offer nutrition counseling, or recommend that you limit your portion sizes and try and stay away from simple sugars. Keep your white flour, white rice and potato consumption to a minimum and increase protein and complex carbohydrates, fruits and vegetables intake.
How much weight should I gain?
A healthy average weight pre-pregnancy:

First trimester: 3 to 5 pounds
Second Trimester: 1 to 2 pounds per week
Third Trimester: 1 to 2 pounds per week

Underweight pre-pregnancy:

First Trimester: 5 to 6+ pounds
Second Trimester: 1 to 2 pounds per week
Third Trimester: 1 to 2 pounds

Overweight pre-pregnancy:

First Trimester: 1 to 2 pounds
Second Trimester: +/- 1 pound
Third Trimester: +/- 1 pound
When to get help?
Your healthcare provider may refer you to a professional dietician if you:
Start your pregnancy overweight or underweight.
Have a history of excess weight gain in a previous pregnancy.
Have a history of gestational or overt diabetes, pre-eclampsia, high blood pressure or eating disorders.
Please note: The information provided on this website is not intended to and do not constitute professional medical advice, diagnosis, or treatment. Always seek the advice of your physician or other qualified health provider with any questions you may have regarding a medical condition. Never disregard professional medical advice or delay in seeking it because of something you have read on this website.