What You Can Expect From The Joys Of Fatherhood
Fatherhood is a fantastic feeling! The ability that you have to create new life will really only sink in once you experience that feeling of watching your baby being born, or when you hold him or her in your arms for the first time.
Being an expecting or new Father can be an amazing feeling, but it can also be a very difficult time as all sorts of questions go through your mind. You may begin to have some doubts and fears about becoming a new father, how the new edition to your family may effect your romantic life with your partner, or how you will juggle work and your family life.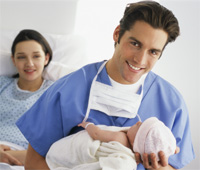 Your Baby's First Year Development Guide

Dont forget that you can also follow your baby as he or she develops through to the first 12 month. Get great food ides for first solids, and progress all the way through.
There are also great articles to show you how you can help your baby learn through each stage of development as well as great baby videos which cover a numner of topics.