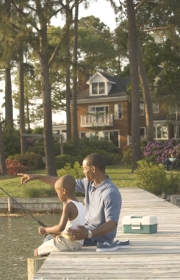 Being available to your children on more than just the weekends is very important. They need to know that you will always be available to them, no matter what time. It also allows you to be more actively involved at all times and for all situations.
Respect
Respect for you partner is just as important as having respect for your children. Not only will this allow your relationship with your partner to flourish, but your children will pick up on this. A happy family is always a loving family.
Communication
Communication is the key to any family or relationship. This goes for being a father as well. In order to be a good father means that you and your partner need to communicate and work together to make decisions that involve your children.
Praising your children
Children love to show you what they have made or done, and it is important for them to seek your approval. Praise your children for what they do, no matter how simple it may seem to you. Remember that they are learning things that are new to them, even though it is old hat for you.
Please note: The information provided on this website is not intended to and do not constitute professional medical advice, diagnosis, or treatment. Always seek the advice of your physician or other qualified health provider with any questions you may have regarding a medical condition. Never disregard professional medical advice or delay in seeking it because of something you have read on this website.