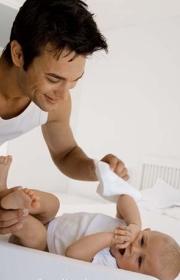 Mothers generally seem to bond better with the new born baby than what fathers can. It makes sense, mothers spend more time with their new born babies, they feed them, change diapers and often are the ones who will sit and rock them to sleep. It is up to the new father to make ways which allow them to bond with their newborn.
Not Breastfeeding
If your wife isn't breast feeding your baby, it would be a good idea to help with the feeding. When you are feeding a baby, they tend to bond with the person who is feeding them for a number of reasons, but it is a time when just the two of you can sit and focus into each others eyes, and get used to each other.
Eye Contact
Try having a staring competition with your baby. Because a baby can only focus on objects that are close to them, sitting and staring into each others eyes will help him/her become used to your face and voice. You will find that she will start to respond to the little things you do, like smile or laugh.
Bathing Together
A baby may feel a whole lot more secure when someone is in the bath with them, and if you are offering that security, it will only strengthen your bond with him/her.
Read Together
When babies are young they love to hear the sound of your voice. So it is a good idea to read to them, it doesn't even need a story book. Weather it is your favorite book or the sports page, it doesn't matter, as long as you are reading it out aloud in a soothing voice it will keep your baby entertained for hours on end.
Diaper Change
Many fathers hate to change a diaper at first, but this is the best time for some serious bonding. When you change a diaper you, get to talk to the baby as well as well as have physical contact with him/her.
Please note: The information provided on this website is not intended to and do not constitute professional medical advice, diagnosis, or treatment. Always seek the advice of your physician or other qualified health provider with any questions you may have regarding a medical condition. Never disregard professional medical advice or delay in seeking it because of something you have read on this website.