Summertime Pregnancy Beauty Pampering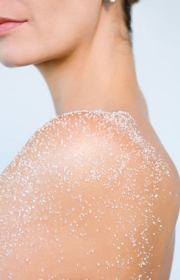 With summer almost in full swing the next few months may become a very uncomfortable time, especially for those of you who are a little farther along. However, don't worry, because help is at hand with some easy to do summer pregnancy pampering solutions.
Trusty Brown Sugar Scrub
Of course during the hot summer months you are going to be focusing on keeping cool, and this can often be very difficult during summer as it seems your body's natural air condition is permanently broken. Why not try this fantastic blown sugar scrub to help keep you cool.
Ingredients:
1 1/2 cups brown sugar 1 tablespoon honey 1/2 cup jojoba oil 1/4 cup liquid soap
Method:
Place the sugar in a medium-size bowl. Add the honey, jojoba oil and liquid soap and mix all ingredients thoroughly. Make sure your bath tub is dry then place towels into the bath and lower yourself in. Take the brown sugar scrub and gently massage it all over your body from neck to toe. You won't want to be applying the scrub to your face though, as it may be a little to abrasive for your face. Once you have finished the scrub, you can remove the towels from the bath tub and gently rinse with warm water. This should leave you feeling refreshed and revitalized! Remember to apply moisturize and sun block before heading out into the summer sun.
Waxing Nostalgic
It's a fantastic summers day and you have plans to get into your new maternity bathing suit…. but you have shaved for the last 3 weeks … well, because you can no longer reach! So, what about waxing, is it safe – the answer is yes! You should never underestimate the brilliance of having a professional tend to all your waxing needs, so be sure to visit your local – or favourite – beauty salon for a bit of pampering. Of course with all things that having anything to do with pregnancy, there are a few things to be aware of. Firstly, I guess, is how good is your threshold for pain. Yes, unfortunately that is one of the downsides to waxing – it can be pretty painful if you have a low pain threshold. Then I guess, it isn't near as bad as labor either. Of course it also depends on how much hair you want taken off, as different procedures will use a different amount of wax, not to mention that you may also be more sensitive in "that" area. A bikini wax, which removes the hair which extends beyond your bikini underwear, is removed. While an extended bikini wax goes just beyond the underwear line a Brazilian wax will remove most or all of the hair. So take this into account especially if this is your first time getting waxed. Either way, their no doubt that having your under arms, legs and bikini line waxed leaves you feeling much sexier and smoother – just what you want when you step out in your bikini.
Pedicure Pleasures
After months of cold weather I am sure that you will definitely be enjoying the ability to wear open shoes and give your feet a chance to breath in the summer air! Well then there is probably no better feeling that having a pedicure done, and especially when you can't reach your own feet having a professional pedicure done is something which you can safely have done. One thing you may be aware of before heading out the door to your nearest pedicure palace is that sometimes the fumes in a beauty salon can be overwhelming to your almost super power sense of smell during pregnancy. To get around this you could book an appointment which is earlier in the morning, or during some other less busy time of the day or make sure that the salon you go to is well ventilated.
Please note: The information provided on this website is not intended to and do not constitute professional medical advice, diagnosis, or treatment. Always seek the advice of your physician or other qualified health provider with any questions you may have regarding a medical condition. Never disregard professional medical advice or delay in seeking it because of something you have read on this website.