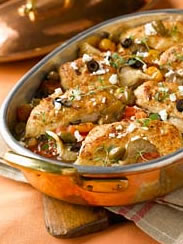 SERVES: 4 PREP TIME: N/A COOK TIME: N/A
Ingredients:
1 cup nonfat buttermilk 4 boned skinless chicken breast halves 1 1/2 cups cornflakes 3 tablespoons toasted wheat germ with honey 1 teaspoon dried thyme 1/2 teaspoon sweet paprika 1/2 teaspoon salt 1/4 teaspoon cayenne pepper
Mashed Potato:
4 cups potatoes (about 3 medium), peeled and cubed 4 cloves garlic (optional) 2/3 cup nonfat buttermilk 2 teaspoons unsalted butter Salt and freshly ground black pepper, to taste
Nutritional Information
| | |
| --- | --- |
| Calories | 546 |
| Fat | 15% (9g) |
| Carbohydrate | 44% (50g) |
| Protien | 41% (6g) |
| Fibre | 7g |
| Iron | 5mg |
| Calcium | 181mg |
| Folate | 72mcg |
Directions:
Combine buttermilk and chicken in a medium bowl. Stir to coat, seal with plastic wrap and refrigerate 30 minutes or longer (all day is preferable). Preheat oven to 350° F. Line a baking sheet with aluminum foil. Combine cornflakes, wheat germ, thyme, paprika, salt and cayenne pepper in a food processor or blender. Pulse until coarsely ground. Transfer to a shallow dish. Drain buttermilk from each chicken piece, and dredge in seasoned cornflake crumbs. Place coated chicken on prepared baking sheet and bake 30 minutes, or until juicy and cooked through. To make mashed potatoes, place potatoes and garlic in a medium saucepan and cover with warm water. Bring to a boil, reduce heat to medium and simmer 15 minutes or until potatoes are soft. Drain water and add buttermilk and butter. Mash to desired consistency and season with salt and pepper..
Please note: The information provided on this website is not intended to and do not constitute professional medical advice, diagnosis, or treatment. Always seek the advice of your physician or other qualified health provider with any questions you may have regarding a medical condition. Never disregard professional medical advice or delay in seeking it because of something you have read on this website.