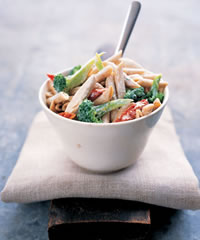 SERVES: 6
PREP TIME: 10 minutes
COOK TIME: 25 minutes
Ingredients:
1 head broccoli, long stems removed, stalks cut into florets (about 4 cups)
1 8-ounce package whole-wheat penne pasta
3 tablespoons oil-packed sun-dried tomatoes, sliced
1 pound chicken tenders, cut into bite-sized pieces
1 6 1/2-ounce container reduced-fat, soft garlic and herb cheese spread (such as Alouette Light Garlic et Herbes)
Directions:
Steam broccoli florets until crisp-tender, about 6 minutes. Set aside. Bring a large pot of water to boil. Add penne and cook according to package directions until al dente. Drain, reserving 1/3 cup of the liquid.
Heat sun-dried tomatoes in a large nonstick skillet over medium heat. Add chicken and cook for 6-8 minutes, or until juicy and just cooked through. Add broccoli, penne, reserved pasta water and cheese spread. Stir over low heat until cheese spread has melted. Season with salt and pepper.
If serving immediately, spoon into bowls and serve. Otherwise, let cool and transfer into a freezer-proof container. Freeze until ready to serve.
To serve, thaw pasta in refrigerator overnight. Drizzle with 1/4 cup nonfat milk, then microwave until hot.
Nutritional Information
| | |
| --- | --- |
| Calories | 363 |
| Fat | 35% (14g) |
| Carbohydrate | 37% |
| Protien | 28% |
| Fibre | 6g |
| Iron | 3mg |
| Calcium | 93mg |
| Folate | 67mcg |
Penne with Chicken & Broccoli