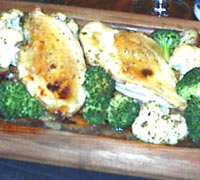 Rich, flavorful honey mustard chicken with carrots and potatoes. Makes 4 servings.
Ingredients:
1 lb. potatoes cut into wedges
2 lbs. chicken
6 medium carrots, sliced
2 tablespoons olive oil
1 1/2 tablespoons honey
3 tablespoons mustard
1 teaspoon rosemary
2 heads garlic
salt and pepper to taste
Nutritional Information
| | |
| --- | --- |
| Calories | 356.7 |
| Carbohydrate | 39.4g |
| Protien | 30.5g |
1. Preheat oven to 425° F. In a shallow pan, toss potatoes and carrots with oil, salt and pepper. Peel the garlic heads and remove the cloves, and nestle the garlic amongst the vegetables and scatter the rosemary on top. Arrange the chicken pieces among the vegetables and bake uncovered for 30 minutes. 2. Stir together the mustard and honey, and spread over chicken. Stir vegetables, return chicken to pan, place back into the oven and bake 10-20 minutes, until chicken is cooked and vegetables are tender.
Honey Mustard Roasted Chicken
Please note: The information provided on this website is not intended to and do not constitute professional medical advice, diagnosis, or treatment. Always seek the advice of your physician or other qualified health provider with any questions you may have regarding a medical condition. Never disregard professional medical advice or delay in seeking it because of something you have read on this website.