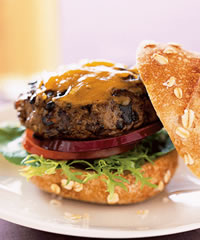 Craving: Red Meat SERVES: 4 PREP TIME: 7 minutes COOK TIME: 18 minutes
Ingredients:
1/2 medium onion, finely diced
1 teaspoon olive or grapeseed oil
1 cup finely diced portobello mushrooms
1 teaspoon balsamic vinegar
1 slice home-style white bread, crusts trimmed
1 teaspoon granulated garlic
1/4 teaspoon paprika
1 pound 93 percent lean ground beef (7 percent fat)
Nonstick cooking spray
4 tablespoons loosely packed shredded sharp cheddar
1 cup loosely packed baby greens
4 whole-wheat hamburger buns
1 medium tomato, thinly sliced
1 small onion, thinly sliced
Nutritional Information (1 Burger)
| | |
| --- | --- |
| Calories | 377 |
| Fat | 31% (13g) |
| Carbohydrate | 33% (31g) |
| Protien | 36% (34g) |
| Fibre | 3g |
| Iron | 5mg |
| Calcium | 128mg |
| Folate | 90mcg |
Directions:
In a small nonstick frying pan, sauté the diced onion in oil over medium heat until translucent, about 5 minutes. Add mushrooms and saute for 1 minute, shaking pan. Turn heat up to high and add balsamic vinegar. Cook on high until vinegar is absorbed, about 30 seconds. Transfer to a large bowl and let cool. Meanwhile, place bread in a food processor and pulse until crumbs are formed. Transfer bread crumbs to bowl with mushroom mixture. Add garlic, paprika and beef. Using your hands, gently incorporate mushroom mixture into beef. (To avoid tough, dry burgers, do not over-handle meat.) Form into 4 patties, about 3 inches wide and 1 inch thick. Set a large frying pan on medium-high heat and lightly coat with nonstick spray. Place burgers in pan and cook for 5 minutes. Flip burgers and cook for 4 minutes more. Top each burger with a tablespoon of shredded cheddar. Cover frying pan and cook burgers an additional 2 minutes, until cheese has melted. Place about 1/4 cup baby greens on each bun bottom, then top with tomato and onion. Place burger over onion and cover with bun top.
Please note: The information provided on this website is not intended to and do not constitute professional medical advice, diagnosis, or treatment. Always seek the advice of your physician or other qualified health provider with any questions you may have regarding a medical condition. Never disregard professional medical advice or delay in seeking it because of something you have read on this website.