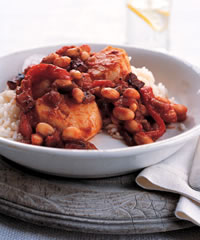 SERVES: 4 PREP TIME: 5 minutes COOK TIME: 15 minutes
Ingredients:
3 strips bacon, diced 1 15-ounce jar salsa 2 4-ounce jars sliced roasted red peppers, drained; or 1 red pepper, seeded, cored, roasted and thinly sliced 1 15-ounce can white beans, drained 1 1/2 pounds large scallops
Directions:
Place bacon in a large nonstick skillet over medium-low heat. Sauté for 3 minutes. Stir in salsa, red peppers and beans. Reduce heat to low. Cover and cook for 10 minutes. Stir in scallops and season with salt and pepper. If serving immediately, continue cooking mixture for 2 minutes, or until scallops are just cooked through. Otherwise, turn off heat and let mixture cool (scallops will finish cooking as mixture cools and during reheating). Transfer to a freezer-proof container. Freeze until ready to serve. To serve, thaw in refrigerator overnight. Transfer to a medium saucepan. Simmer, partially covered, over medium-low heat for 2 minutes or until scallops are heated through.
Nutritional Information
| | |
| --- | --- |
| Calories | 355 |
| Fat | 13% (5g) |
| Carbohydrate | 44% |
| Protien | 43% |
| Fibre | 7g |
| Iron | 5mg |
| Calcium | 170mg |
| Folate | 163mcg |
Spicy Scallops & white beans
Please note: The information provided on this website is not intended to and do not constitute professional medical advice, diagnosis, or treatment. Always seek the advice of your physician or other qualified health provider with any questions you may have regarding a medical condition. Never disregard professional medical advice or delay in seeking it because of something you have read on this website.