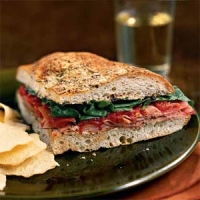 Makes 4 Servings
Ingredients
3 tbs low-fat mayonnaise
2 tbs fresh basil, chopped
2 tsp sun dried tomato sprinkles
1/4 tsp crushed red pepper
1 8oz round focaccia bread
8oz smoked deli ham, thinly sliced
7oz bottle roasted red peppers, drained and thinly sliced
1 large handful fresh baby spinach leaves, washed and dried
Method:
1. Combine the mayonnaise, basil, tomato and crushed red pepper together in a small bowl.
2. Cut the focaccia bread length ways into 2 halves.
3. Spread the mayonnaise mixture onto both cut sides of the bread.
4. Layer the ham, roasted peppers and spinach onto one side of the bread.
5. Cover with other half of the bread and cut into 4 wedges.
Nutritional Information
| | |
| --- | --- |
| Calories | 275 |
| Fat | 5.9g |
| Carbohydrate | 36.5g |
| Protien | 17.7g |
| Fibre | 2.3g |
| Iron | 2.7mg |
| Calcium | 59mg |
| Sodium | 1190mg |