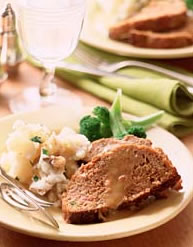 SERVES: 4
PREP TIME: 20 minutes
COOK TIME: 30 minute
Ingredients:
1 teaspoon olive oil
1/2 cup minced yellow onion
1/4 cup minced carrot
2 teaspoons chopped fresh thyme, or 1 teaspoon dried
1 egg
3 tablespoons ketchup
1 tablespoon Worcestershire sauce
1 pound lean ground turkey
1/4 cup bread crumbs
Directions:
Preheat oven to 375° F. Add oil to a nonstick skillet over medium heat. Add onion and saute 2-3 minutes or until soft. Add carrots and continue to saute until just soft, about 4-5 minutes. Remove from heat.
In a large bowl, combine thyme, egg, ketchup and Worcestershire sauce. Add ground turkey and mix thoroughly. Toss in the bread crumbs and combine with turkey mixture until incorporated. Form 4 equal-size loaves and place on a lightly greased baking sheet. Bake until internal temperature reads 165* F (use a meat thermometer to check) and loaves are firm.
Nutritional Information
| | |
| --- | --- |
| Calories | 228 |
| Fat | 32% (21g) |
| Carbohydrate | 21% (12g) |
| Protien | 47% (27g) |
| Fibre | 1g |
| Iron | 2.5mg |
| Calcium | 37mg |
| Folate | 17mcg |