Broccoli Raab with Garlic and Olives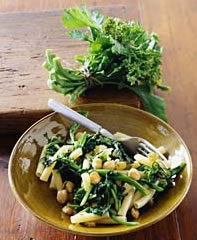 SERVES: 2 PREP TIME: 15 minutes COOK TIME: N/A
Ingredients:
1 pound broccoli raab 1 1/2 tablespoons olive oil 3 cloves garlic, thinly sliced lengthwise 6 pitted, oil-cured black olives 2 tablespoons sun-dried tomatoes packed in oil, thinly sliced (about 2 pieces) Salt and pepper
Directions:
Bring a large pot of salted water to a boil. Trim 1/2 inch off the stems of the broccoli raab. Cook raab for 3 minutes, strain, then run under cold water until cool to reduce bitterness. Coarsely chop into bite-size pieces. Heat olive oil in a large sauté pan over medium heat until hot but not smoking. Add garlic; stirring constantly, cook for 30 seconds, or just until it becomes fragrant but before it browns. Stir in raab and cook until heated through, about 3 minutes. Remove from heat; add olives and sun-dried tomatoes, then season with salt and pepper to tast.
Nutritional Information
| | |
| --- | --- |
| Calories | 101 |
| Fat | 60% |
| Carbohydrate | 28% (7g) |
| Protien | 12% (3g) |
| Fibre | 4g |
| Iron | 2mg |
| Calcium | 122mg |
| Folate | 213mcg |
Please note: The information provided on this website is not intended to and do not constitute professional medical advice, diagnosis, or treatment. Always seek the advice of your physician or other qualified health provider with any questions you may have regarding a medical condition. Never disregard professional medical advice or delay in seeking it because of something you have read on this website.