Broccoli Raab with Garlic and Olives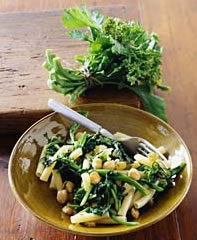 SERVES: 2
PREP TIME: 15 minutes
COOK TIME: N/A
Ingredients:
1 pound broccoli raab
1 1/2 tablespoons olive oil
3 cloves garlic, thinly sliced lengthwise
6 pitted, oil-cured black olives
2 tablespoons sun-dried tomatoes packed in oil, thinly sliced (about 2 pieces)
Salt and pepper
Directions:
Bring a large pot of salted water to a boil. Trim 1/2 inch off the stems of the broccoli raab. Cook raab for 3 minutes, strain, then run under cold water until cool to reduce bitterness. Coarsely chop into bite-size pieces.
Heat olive oil in a large sauté pan over medium heat until hot but not smoking. Add garlic; stirring constantly, cook for 30 seconds, or just until it becomes fragrant but before it browns. Stir in raab and cook until heated through, about 3 minutes. Remove from heat; add olives and sun-dried tomatoes, then season with salt and pepper to tast.
Nutritional Information
| | |
| --- | --- |
| Calories | 101 |
| Fat | 60% |
| Carbohydrate | 28% (7g) |
| Protien | 12% (3g) |
| Fibre | 4g |
| Iron | 2mg |
| Calcium | 122mg |
| Folate | 213mcg |