Pregnancy, Fashion & Beauty - They Can Go Hand In Hand!
Who says pregnancy clothes need to be frumpy and boring? Maternity clothes have come along way over the past years, and now with more women working late into their pregnancies as well as having more women working the corporate environment - old frumpy pregnancy tent tops have disapeared.
All women should feel and look their best, and being pregnant is no exclusion at all. We have some beauty advice and information that will explain some of the common pregnancy symptoms which may effect your everyday life, and we also look at different ways you can treat yourself with homemade spa treatments that will leave you feeling fantastic.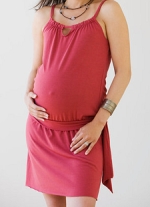 Style & Pamper Your Way Through Your Pregnancy