Dressing With Style For Your Pregnancy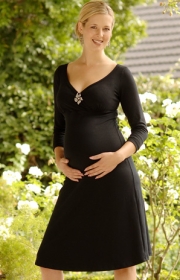 So now that you are pregnant you are over the moon. But you may not be so thrilled about losing your figure over the course of your pregnancy and giving up the hip and fashionable clothes you can wear at the moment. Well, that does not necessarily mean that you have to wear a tent and with a few simple tricks, you can look glowingly pregnant and still look hip.
Borrowing before you buy
Maternity clothes can be expensive and if you think that you will only be wearing the items for a few months as well, it can possible make you feel even worse about spending the money on the latest maternity wear. In most cases many of you will have friends who have already traveled the maternity fashion path, and so there is always the chance that you will be able to borrow clothes from them. Most women who buy maternity clothes will also try and get back some of the money which they spent on clothes by selling them once they don't need them anymore, so you will also want to shop around at second hand stores and thrift shops.
Scour your closet
Everyone has clothes in their cupboards that they used to wear when they were a few pounds heavier, so don't for get to go through some of those outfits which you have hidden in the back of your cupboard before you go out rushing for fitting maternity clothes. And remember the excellent little trick to help your favorite jeans fit a little longer during your pregnancy. By simply using a rubber band through the button hole of your jeans and then wrapping it around the button will give you a few extra months of wear. There are also certain clothes which will suit your changing body. A-line shifts, empire-waist dresses and tops, and pencil skirts paired with swingy shirts will do just that. Why not show off your belly with a simple pair of low-rise pants with a fitted tee?
Buy yourself some "transitional" pieces
Another option for those in between months when you are not quite nearing the end of your pregnancy and when your regular clothes are just a little tight is to by clothes which are a few sizes bigger than your normal size. These will fit nicely and leave you feeling comfortable, with out having to pay out the high cost of maternity wear.
Show off those curves
Now a days there are many mother to be who are simply flaunting their blossoming bellies and breasts in body-conscious clothes that are miles removed from the frumpy, voluminous maternity smocks of the years gone by. Form fitting clothes are often be flattering than baggy clothes.
Layers, use the layers
During your pregnancy your metabolism will be working overtime. This means that when everyone is complaining about the cold, you will probably be reaching for the air conditioner. Wearing a layered look, you will be able to feel off the clothes as your body needs it. You wont want to get to carried away, though. Too many layers or layers that are too loose can look sloppy instead of sophisticated.
Use your shoe sense
Most women's feet will expand to a half or even a full size bigger during. Fluid retention is only part of the problem. The joints in your body — including those in your feet — are loosening up in response to relaxing, the pregnancy hormone that allows your pelvis to expand to make way for your baby during delivery. So as your hips spread, so do your feet. This is not the time to be strutting around in stiletto's, and so to help save your feet the pain you would be better off wearing a pair of flats or shoes with wide, chunky heels or lower "kitten heels" instead. Remember to buy slip on shoes as well. After wall, who at nine months pregnant wants to be bending over to do up clips. You may actually be lucky if you can even see your feet!
Here are some ways to add a little oomph to your outfits
Use a bright piece of jewelry, such as a turquoise or beaded bracelet or necklace, to give a monochromatic outfit some zip.
Wear a pair of funky shoes and carry a matching handbag to add your signature to a basic piece.
Punch up an outfit with a colorful scarf or by tying a sweater around your shoulders.
Pregnancy & Dressing With Style
Please note: The information provided on this website is not intended to and do not constitute professional medical advice, diagnosis, or treatment. Always seek the advice of your physician or other qualified health provider with any questions you may have regarding a medical condition. Never disregard professional medical advice or delay in seeking it because of something you have read on this website.