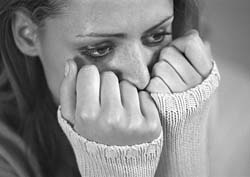 A miscarriage occurs when your pregnancy ends before the embryo or fetus can survive on it's own outside the uterus, usually before the first 20 weeks of pregnancy. Once the first 20 weeks of a pregnancy have passed, should your pregnancy end in the death of your baby, then it is referred to as a stillbirth. Almost every woman who is pregnant will think about a miscarriage, but in reality only about 15% of all pregnancies end in one.
Miscarriage symptoms & signs
Pain that comes and goes
Pain that begins in the small of your back and moves to your stomach
Loss of tissue
What may cause a miscarriage?
Although we don't really know, and very often are unable to establish what may cause a miscarriage, the most common finding is an abnormality in the development of the embryo, and more than half result from chromosomal abnormalities. Although there are many other factors which may effect an embryo in it's environment, such as:
Use of drugs or medication
Radiation
Unusual infections
Syphilis
Use of Alcohol
Trauma
Genetic Disorders
Need help dealing with a miscarriage ?
If you have had a miscarriage, it can be an extremely traumatic experience and can be very difficult to deal with. Don't blame yourself or your partner, as in many cases, there was nothing you could have done to prevent it from happening, and it is virtually impossible to look back to see if there was anything that you may have done to cause it. Below are contact details for organizations to help you deal with having had a miscarriage:
The Miscarriage Association (UK)
Helpline:
01924 200799
http://www.miscarriageassociation.org.uk
Focus on the Family
Helpline:
(719) 531-3400
Compassionate Friends
Helpline:
877-969-0010
http://www.compassionatefriends.org
Please note: The information provided on this website is not intended to and do not constitute professional medical advice, diagnosis, or treatment. Always seek the advice of your physician or other qualified health provider with any questions you may have regarding a medical condition. Never disregard professional medical advice or delay in seeking it because of something you have read on this website.