What Is An Incompetent Cervix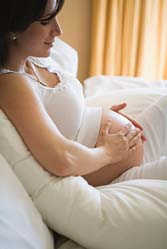 Should your cervix be softer and weaker than a normal cervix, then there is a good chance that during the course of your
second trimester
your cervix may begin to dilate under the weight of your developing baby. If this is the case, then you will have an incompetent cervix. Your healthcare provider may require that you have a transvaginal ultrasound between weeks 16 and 20 in order measure the length of your cervix to check for any signs that you may have an incompetent cervix. A few years ago you may have only been diagnosed as having this complication after suffering several second trimester miscarriages.
Symptoms of an incompetent cervix
Call your healthcare provider should you have any of these symptoms:
A mucousy or watery vaginal discharge
Vaginal spotting or bleeding
Menstrual-like cramping
Pelvic pressure or "heaviness"
Who is at higher risk?
You will have a greater risk of developing this if:
You or family members have a history of second trimester miscarriages
You have a history of unexplained preterm labor
You have had a cone biopsy or LEEP done on your cervix
Your cervix was injured during a previous birth
You have a short cervix
Is there treatment for an incompetent cervix?
One of the most common treatments, and perhaps one of the most controversial as well, is cerclage. This is a procedure where your healthcare provider stitches your cervix to try and help reinforce it and is carried out if your pregnancy is less than 24 weeks. Why is this method so controversial? There has been some research which questions the effectiveness of cerclage preventing miscarriage. The actual procedure itself can expose you to a number of complications such as: preterm delivery, uterine infection,
ruptured membranes
and uterine "irritation" leading to contractions. Some healthcare providers may prescribe bedrest instead, or even in addition to cerclage. There is no evidence that bedrest alone may be effective, but the idea is that bedrest will allow you to take as much weight off the cervix as possible. Your healthcare provider may ask you to refrain from any sexual activity.
Please note: The information provided on this website is not intended to and do not constitute professional medical advice, diagnosis, or treatment. Always seek the advice of your physician or other qualified health provider with any questions you may have regarding a medical condition. Never disregard professional medical advice or delay in seeking it because of something you have read on this website.