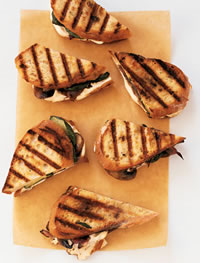 SERVES: 1 PREP TIME: 15 minutes COOK TIME: 40 minute
Ingredients:
Nonstick cooking spray 6 cups pre-cut vegetables (such as sliced zucchini, onions, bell peppers and mushrooms) 1 tablespoon minced garlic 1 tablespoon olive oil 1 tablespoon chopped rosemary Salt and pepper to taste 8 slices Italian sandwich bread 4 ounces thinly sliced smoked mozzarella cheese
Directions:
Preheat oven to 400° F. Coat a 9×13 baking dish with cooking spray. Place vegetables and garlic in dish. Drizzle with oil. Sprinkle with rosemary, salt and pepper. Roast vegetables uncovered until tender, about 35 minutes, stirring occasionally. Spoon vegetable mixture on four bread slices. Top with mozzarella slices and four remaining bread slices. Coat a sandwich grill or skillet with nonstick cooking spray. If you are using a skillet, cook sandwich for 2-3 minutes on each side, until browned. Serve hot
Nutritional Information
| | |
| --- | --- |
| Calories | 321 |
| Fat | 30% (11g) |
| Carbohydrate | 52% (42g) |
| Protien | 18% (14g) |
| Fibre | 5g |
| Iron | 3mg |
| Calcium | 58mg |
| Folate | 93mcg |
Please note: The information provided on this website is not intended to and do not constitute professional medical advice, diagnosis, or treatment. Always seek the advice of your physician or other qualified health provider with any questions you may have regarding a medical condition. Never disregard professional medical advice or delay in seeking it because of something you have read on this website.