Omega 3 – Boost Baby's Brain Power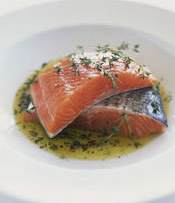 You may have been told that Omega 3 fatty acid – also known as fish oils – can play an important part in helping your baby's brain develop into the powerful organ we all want our children to have. So now you are wondering what the best sources of this nutrient are and how much you should be getting.
What is Omega 3 Fatty Acid?
Firstly we should make you aware that this is often referred to as fish oils, but it is not actually fish oil, but rather that this fat is found in concentrated amounts in marine life and in some land plants, notably flaxseed and grapeseed – which is used to make canola oil and in walnuts.
What development will Omega 3 aid?
Omega 3 is critical to eye and vision development and along with another fatty acid, called linoleic acid, it makes up more than 1/3 of the fatty acids in the brain and the retina of the eye. Most all of the accumulation of omega 3 fatty acids in the brains and eyes of human infants occurs during the
third trimester
. This is why
premature babies
are at a particular risk for potentially irreversible nerve and visual damage. This is why it is so important that you consume these important fats during your pregnancy, especially the last trimester, in order to ensure that your baby will reap the benefits.
How much should I get?
In the United States there is no recommended daily allowance of Omega 3 fatty acids – however they have made the recommendation that two fish meals per week is a good starting point.
What are good sources of Omega 3?
As mentioned above fish is a good source of Omega 3. It is important to note that some fish contain more Omega 3 than others, and it is generally the cold water fish that have a higher amount, these include:
mackerel
salmon
trout
rockfish
herring
whitefish
anchovy
tuna
Having said that, pregnant women should be cautious about the kinds of fish they eat and should read our article on
eating fish during pregnancy
. Of course there are other sources of Omega 3 other than fish, and some of these sources include:
flaxseed
walnuts
canola oil
grapeseed oil
Unfortunately the quality or strength of alternative sources of Omega 3 is generally rated as 1/5 of that which is found in fish.
Please note: The information provided on this website is not intended to and do not constitute professional medical advice, diagnosis, or treatment. Always seek the advice of your physician or other qualified health provider with any questions you may have regarding a medical condition. Never disregard professional medical advice or delay in seeking it because of something you have read on this website.