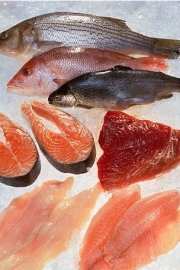 Is it safe to eat fish during pregnancy? Yes you can, although there are some fish types which you will want to steer clear of altogether. Why would you want to steer clear of eating fish during pregnancy? They are loaded with all the good nutrients, such as:
How much fish can I eat during my pregnancy?
In March 2004, the U.S. Food and Drug Administration (FDA) and the Environmental Protection Agency (EPA) issued new guidelines for how women who are trying to conceive, pregnant women, nursing mothers, and young children can limit their exposure to mercury in fish. They now recommend that you eat no more than 6-12 ounces a week of canned "light" tuna and other cooked fish. Other fish which is safe to be consumed twice a week include:
Salmon in all forms, except from the Great Lakes
Farmed trout
Sardines
Herrings
Pilchards
Flounder and sole
Farmed cat fish, stripped bass and tilapia
Cod
Haddock
Mahi mahi
Perch
Crab, shrimp, scallops, clams, oysters, mussels, crayfish
Of course, there are some fish which you should completely avoid altogether.
Shark
Swordfish
King mackerel
Tilefish (golden or white snapper)
Tuna steak (fresh or frozen)
Spanish mackerel
Marlin
Grouper
Large and small mouth Bass
Walleye
Northern Pike
Lake Whitefish
Salmon from the Great Lakes
Bowfin
Gar
Toxic species such as pufferfish (fugu), blowfish and sea squab
These fish are at the top of the food chain – and that usually means that they contain the highest levels of mercury. There are of course many other tasty fish which are safer to eat. Salmon, rainbow trout, and canned mackerel, all contain low levels of mercury and are high in healthy fats. The FDA considers these fish safe for pregnant women to eat twice a week.
Please note: The information provided on this website is not intended to and do not constitute professional medical advice, diagnosis, or treatment. Always seek the advice of your physician or other qualified health provider with any questions you may have regarding a medical condition. Never disregard professional medical advice or delay in seeking it because of something you have read on this website.