1 Month Baby Development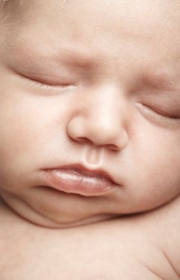 Welcome to the Month by Month baby development section! All the information given throughout this section of our website is based on a full term baby, weighing 7 pounds and measuring 20 inches at birth, which is what the average is. Should your baby be small, growth may be less in a given week, and so the same holds true for a larger baby, where the growth may be more. Should your baby be born premature, then the growth and weight gain may be delayed, but they do usually catch up. Each month is broken up to the 4 weeks of which they comprise as there is just simply too much information to place in one page. These articles can always be found below the Monthly developmental milestones.
Baby Development Milestones Month 1 At a Glance
Week 1
Read Full Article
Responds to sudden changes with entire body
Moves head from side to side and lift head
Head flops backwards and forwards
Blinks at bright lights
Focus on objects 8-10 inches away
Hands remain fisted most of the time
will grasp and grip an object if hand touches it
Week 2
Read Full Article
Arm and leg movement still reflexive
Startles spontaneously
Hands usually still fisted or slightly open
Stares at objects 8-18 inches away
Is soothed easily by female voice
Alert about 1 in every 10 hours
cries for assistance
stares at faces
Week 3
Read Full Article
Thrusts arms and legs in play
Can lift head briefly
Coordinates eyes sideways when looking at light or an object
Has vague and impassive expression during waking hours
Makes eye contact
Adjusts body posture to person holding him/her
Week 4
Read Full Article
Rolls partway to side from back
When pulled to sitting position, may hold head in line with back
Can grasp objects when fingers are pried open
May make "ah" sound when sees parents
May clutch a person holding him
May make throaty sounds
Please note: The information provided on this website is not intended to and do not constitute professional medical advice, diagnosis, or treatment. Always seek the advice of your physician or other qualified health provider with any questions you may have regarding a medical condition. Never disregard professional medical advice or delay in seeking it because of something you have read on this website.