Great Ways To Announce Your Pregnancy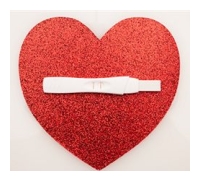 Announcing your pregnancy to the world can be both a wonderful and scary experience. Some people are ready to announce the pregnancy the second they see the positive sign on the pregnancy test. Others, maybe having experienced a loss before, may decide to wait a little while longer to make the big announcement. Some people may find it easy to tell everyone. Other people may find it hard to just come out and say the words "I'm pregnant!", especially if the news may not be received so well. Either way, it can be a lot of fun coming up with a creative way to tell everyone the news. Here are some suggestions that you can use to spread the word to your significant other and/or your friends and family.
If you have an ultrasound picture already, include it with a card or wrap it up with a present. This can be a great way to do it if there is a holiday or birthday around the time you want to make your announcement.
If it's around a birthday, you could buy a "Happy Birthday!" card from the baby to be
If it just so happens to be around Mother's Day or Father's Day and this is your first child, you could buy them a card or gift from the baby. If you already have a child, you can add "baby" when signing the card.
Buy or make a picture frame that has #1 grandma/grandpa or #1 dad on it and frame the ultrasound picture as a gift.
If you have children already, you can use them to help you out. You can make a t-shirt for them to wear that says things like, "I'm the big brother/sister" or "Big brother/sister in training". Have them walk around wearing their shirts for the world to see. For all your distant friends and relatives, why not take a picture of them wearing the shirt and include it in an email.
Buy a special gift that gives away the news, such as a baby toy or a t-shirt that has "grandma/grandpa" or "dad" on it.
Leave clues scattered around the house that symbolize anything baby. You could use things like a rubber ducky, a baby bottle, a pacifier or a baby name book.
Place some "parenting" magazines around the house or stash one in between your husbands current magazines.
Write the announcement on the bathroom mirror. After your significant other takes a shower, he will come out and see the words in the foggy mirror.
The next time your husband asks you for a drink, fill up a baby bottle instead of a regular cup.
Change the screen saver on your husband's computer to say "Hi, Daddy" or "I'm pregnant!".
If it's near a birthday, include a special balloon along with some birthday balloons that read "#1 dad" or "#1 grandpa/grandma".
When your husband isn't looking, replace his CD in his car with a CD containing baby songs or lullabies.
If you are able to get a DVD of your ultrasound, play it at your next family or friends get together.
Have some photo cards printed up using the ultrasound as a picture and mail them out to all your friends/family. You could do the same thing using the pictures of your kids wearing their announcement shirts.
Have some people over for dinner and arrange the dinner table with baby accessories. For example, you could use bibs for napkins, sippy cups for drinks and pink and/or blue place mats.
No matter how you end up deciding to make this big announcement, make sure you plan it so that you are there to witness some of these surprises. You can even have a camera ready and take a snapshot of all those shocked faces the moment they find out. What a priceless memory to include in your baby book
Announcing Your Pregnancy
Please note: The information provided on this website is not intended to and do not constitute professional medical advice, diagnosis, or treatment. Always seek the advice of your physician or other qualified health provider with any questions you may have regarding a medical condition. Never disregard professional medical advice or delay in seeking it because of something you have read on this website.