Weight Gain During Pregnancy
Most health care providers will follow your weight gain during pregnancy with great interest, as this is usually one of the first signs that your baby is growing and progressing as he or she should. Of course gaining too much weight is not a good thing, and gaining too little weight can be just as bad.
We also take a look at how much weight you can expect to gain, where it all goes, how to control your weight during your pregnancy. We even look at how you can replace those junk food fixes with healthy alternatives.
If you are reading these articles, or you are concerned that you are gaining too little or too much weight, then you should speak with your health care consultant as he/she will be able to let you know how your weight gain is, and what you can do to rectify any shortfalls.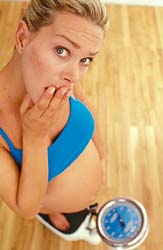 Control Healthy Weight Gain During Pregnancy

Looking For Great Recipes and Food Ideas?
If you are looking for some ideas on great nutritional recipes which are simple to make then make sure you take a look at our recipes section which will give you excellent breakfast, lunch and Dinner recipes.