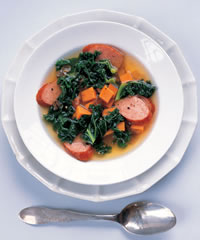 SERVES: 4
PREP TIME: 15 Minutes
COOK TIME: 20 Minutes
Ingredients:
1 large onion, chopped
6 cups chicken broth
2 pounds sweet potatoes, scrubbed and diced
1 14-ounce package low-fat kielbasa (such as Healthy Choice), sliced
3/4 pound kale, stems trimmed, leaves coarsely chopped
Directions:
Coat a large soup pot with nonstick cooking spray. Add onion and sauté over medium-high heat until golden, about 5 minutes. Stir in remaining ingredients. Bring mixture to a boil, reduce heat to low and simmer for 15 minutes, or until vegetables are tender. Season with salt and pepper to taste.
If serving immediately, cover pot and let rest for 10 minutes.
Otherwise, turn off heat and let cool. Transfer to a freezer-proof container. Freeze until ready to serve.
To serve, thaw soup in refrigerator overnight. Transfer soup to a medium saucepan and simmer over medium heat until heated through.
Nutritional Information
| | |
| --- | --- |
| Calories | 493 |
| Fat | 20% (11g) |
| Carbohydrate | 56% |
| Protien | 24% |
| Fibre | 9g |
| Iron | 4mg |
| Calcium | 186mg |
| Folate | 63mcg |
Sweet Potato, Kielbasa and Kale Soup