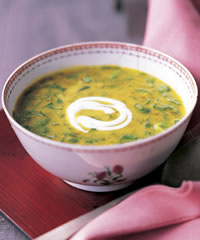 SERVES: 4
PREP TIME: 15 minutes
COOK TIME: 35 minutes
Ingredients:
2 cups split red lentils (or yellow split peas), picked over and rinsed several times
1 tablespoon turmeric
2 tablespoons butter, divided
1 tablespoon salt
1 large onion, finely diced
2 teaspoons ground cumin
1 teaspoon ground mustard
1 bunch chopped cilantro
Juice of 3 limes, or to taste
1 bunch spinach, chopped
4 to 6 tablespoons plain yogurt, strained
Directions:
Place lentils in a soup pot with 2 1/2 quarts water, turmeric, 1 tablespoon butter and salt. Bring to a boil; lower heat and simmer, covered, until lentils are soft, about 20 minutes. Puree in a blender or food processor.
Cook onion in remaining 1 tablespoon butter with cumin and mustard over low heat until soft, about 15 minutes. Stir occasionally. Add cilantro and cook for 1 minute. Add onion mixture to soup and season with lime juice.
Just before serving, add spinach to soup and cook just until it wilts. Top with a swirl of yogurt
Nutritional Information
| | |
| --- | --- |
| Calories | 477 |
| Fat | 15% (8g) |
| Carbohydrate | 59% |
| Protien | 26% |
| Fibre | 4g |
| Iron | 13mg |
| Calcium | 245mg |
| Folate | 599mcg |