There are number of important pregnancy tests which may be conducted by your health care provider during your pregnancy. These tests will help to confirm that your baby is developing without any major complications.
These Pregnancy Tests may not always be carried out by your doctor. Your health care provider may request to have them completed, as these tests are usually reserved for those may be at risk of having a high risk pregnancy.
Some of the test are standard, some will be carried out if you are pregnant and over 35 or have a history of troubled pregnancies.
These tests are usually carried out between the 16th and 18th week of your pregnancy, so be sure to speak to your health care provider well in advance should you wish to have any of the tests carried out.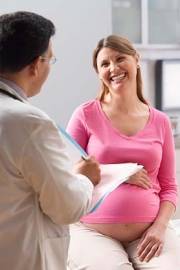 There are of course a number of advantages to having these tests completed, such as the knowledge that your growing baby is in good health and developing without any problems or pregnancy complications.
Many people don't want to know if they are having a Downs baby and others would like to know, in the event that they would than want to terminate their pregnancy. At the end of the day, this decision is yours and your family's personal choice, and you should inform your health care provider of your thoughts around this.
Please note: The information provided on this website is not intended to and do not constitute professional medical advice, diagnosis, or treatment. Always seek the advice of your physician or other qualified health provider with any questions you may have regarding a medical condition. Never disregard professional medical advice or delay in seeking it because of something you have read on this website.