Quad Screen Pregnancy Test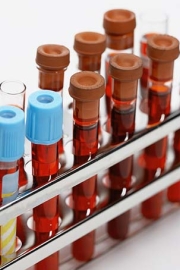 A quad screen test may be carried out by your healthcare provider in order to determine if you are carrying a Down Syndrome baby, and other possible pregnancy related complications, such as neural tube defects.
Quad screen testing is usually completed during the second trimester of your pregnancy, with the optimal age of your fetus being 16 weeks. Once again the gestational age of your fetus is vital to calculating accurate test results.
The quad screen tests are capable of detecting about 75% of neural tube defects, 80% of down syndrome babies and 60% of Trisomy, although the quad screen test will produce about 3% of false down syndrome results.
How is a Quad Screen Test carried out?
How is a Quad Screen Test carried out?
Blood is drawn from the mother;
Laboratory tests AFP, hCG, uE3 and DIA are carried out;
Finally a computer then uses gestational age, maternal age, weight, race and diabetic status to determine the risk factors in the above mentioned complications.
What happens if my Quad Screen test is positive?
Should your quad screen test return a positive result, that you may be carrying a down syndrome baby, all is not yet lost. Further testing will then be carried out to determine if your baby is in fact down syndrome, or any of the above symptoms.