Common Conception Difficulties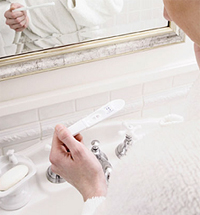 There are many people in the world today who have great difficulty in falling pregnant. There are a number of factors which can contribute to the issue, and these may include one, or all, of the following:
Age The older both male and female are the less fertile they will be. Once a woman reaches the age of 35 it can become very difficult to fall pregnant. Men that are over the age of 40 will find it difficult to produce strong sperm, which will result in the increasing difficulty to fall pregnant. In both sex's, the mid 20's is the best time to conceive.
Male Sperm Count As mentioned above, the male will start to have a steady decline from the mid to late 20's onwards. However, there are also many males who are in their 20's that have a low sperm count due to medical problems. Of course other factors which can cause low sperm count include: taking drugs or high alcohol intake.
Lifestyle The lifestyle that one leads will have a direct impact on your fertility for both men and women. People who are fit, or in good physical condition, eat a healthy well balanced diet will find it easier to conceive successfully. There are of course known problems for those who are too active, especially in women who are professional athletes.
Smoking, Drugs and Alcohol Smoking, use of drugs and alcohol will also have a direct impact on the reproductive system. In many cases this is not always a bad thing, as many people who misuse such substances won't necessarily make the best parents.

Watch our conception related
videos
from medical professionals who will guide you through the basics of conception all the way how to conceive a boy or girl
Please note: The information provided on this website is not intended to and do not constitute professional medical advice, diagnosis, or treatment. Always seek the advice of your physician or other qualified health provider with any questions you may have regarding a medical condition. Never disregard professional medical advice or delay in seeking it because of something you have read on this website.