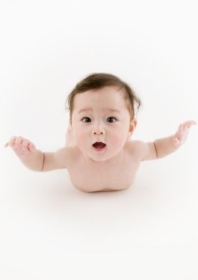 Baby Development: 5 Month Old
Month 5 development sees a great deal of progress in the senses and reflexes as wellas the social and mental departments, with baby's strength increasing as each day passes by.
Baby Development Milestones Month 5 At a Glance
Week 17
Read Full Article
May make swimming motions, resulting in movement around his crib
May be ready to start solid foods
Can distinguish between smells
May hold object between index and second fingers
Has responsive periods of 1 hour or more
Is interested in making new sounds
Laughs when playing
May cry if playing is disrupted
May interrupt feedings with play
Week 18
Read Full Article
Balances head steadily in different positions
Brings feet to mouth
Grasp is steadier
Plays with rattle
Can squeal, grunt and make 'raspberry' sound
Smiles and vocalizes to gain attention and to make social contact
Week 19
Read Full Article
Lifts both arms and feet while lying on stomach
Raises hand near object
Brings object to mouth
Utters vowel sounds and a few consonants
Likes toplay at meal times
Week 20
Read Full Article
Aims well when reaching
May be able to hold bottle with both hands
Wants to touch hold turn shake and mouth objects
Deliberately imitates sounds and movements
Imitates facial expressons
Waves arms to be picked up
Please note: The information provided on this website is not intended to and do not constitute professional medical advice, diagnosis, or treatment. Always seek the advice of your physician or other qualified health provider with any questions you may have regarding a medical condition. Never disregard professional medical advice or delay in seeking it because of something you have read on this website.