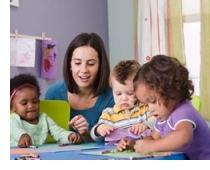 Going back to work and spending time away from your baby can be stressful enough as it is. Trying to find the right creche or childcare facility to leave your precious bundle, can lead to many more worries. Will your baby be safe? Will they feed him the right way? Will they change his diaper on time? Will he get enough person to person contact? These are all normal worries that most moms and dads will go through when they have to start looking for someone to care for their baby. There are several types of daycare settings that you may consider. Licensed day cares (home based or centers) have special rules and regulations they must follow in regards to the amount of children they allow. They also have specific safety regulations in place for emergencies and food handling for example. These rules vary from place to place, so you should check with your local area for the specific guidelines.
Home based daycare – This can be either through a stay at home mom that accepts a few children to take care of along with her own or it can be a licensed in home daycare that has several employees
Daycare centers – These must be licensed and have to follow specific rules and regulations
Preparing To Send Your Child To A Creche
Whether you choose to have your child go to a daycare center or a home based environment, there are certain things that you can do to help guide you through the process.
Plan ahead – Start planning long before the baby is even born. Many day cares have long waiting lists. If you wait until the last minute, you will be left scrambling to find somewhere and may be forced to settle for something you just don't feel comfortable with.
Ask around – Talk to everyone you can about places they themselves have used or their friends use. This will help give you great insight into any good or bad daycare settings. Ask as many questions you can about their experiences. If you don't know anyone that can recommend someone, ask the daycare for the names of some of the parents that send their children there. Give them a call and ask them their opinions.
Take a tour – Ask to take a tour of the daycare setting while it is open. Even better, stop by unannounced. This will give you a good chance to observe the interaction between the providers and the children. Stop and speak to the personnel to get a feel for their personalities. Take a look at all areas of the facility to check for cleanliness and any safety concerns (bathroom, kitchen area, sleeping area, etc). Bring a list of questions with you to ask while you are there. That way you won't get distracted and forget to ask.
Try it out – Before commiting to a day care, have your child spend a day there to see how they do and if they like it. First days can always be a little rough, but it will give you a feel for how things may work out.
Questions To Ask Potential Creche
Some questions you may want to ask include:
Do you allow cloth diapers? Do you help with potty training?
What is your discipline procedure?
Do you have a feeding schedule or do you feed my child according to their own schedule?
How do you handle nap time? Where do the children sleep? Can they bring their own sleeping items?
What is your sickness policy? How well is it enforced?
What is your emergency procedure? Is your facility prepared for emergencies? (fire alarms, smoke detectors, sprinklers)
What kind of education/certification do your providers have?
Are your employees CPR trained?
How do you deal with food allergies? Is there a separate feeding area?
What is your screening process for your employees? (drug screening, background checks, etc)
How many children are there for each provider?
How is your daycare kept sanitary and safe from germs?
What is your procedure for dropping off and picking up children? Do you check the identity of anyone picking up my child?
Do you separate the children by age? Do you have separate age-appropriate/safety appropriate toys for each age group?
What kinds of activities will my child be doing? What will you be teaching them at their age level?
Just remember, there is no such thing as being over cautious and asking too many questions when it comes to the care of your child. If your are feeling wary about one place, move on to the next one and keep searching until you feel find one you feel comfortable with. The more you research each facility, the better you will feel about leaving your child under their care.
Please note: The information provided on this website is not intended to and do not constitute professional medical advice, diagnosis, or treatment. Always seek the advice of your physician or other qualified health provider with any questions you may have regarding a medical condition. Never disregard professional medical advice or delay in seeking it because of something you have read on this website.