Are You Thinking of Using A Doula? What Are Your Options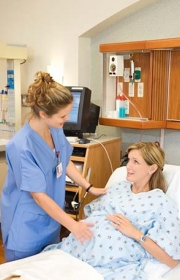 A doula is a woman who is trained to provide support and assistance to you during labor. She will remain with you from the onset of labor to when your baby is born. A doula is different from a midwife in that she doesn't deliver your baby, she is there for emotional and physical support. A doula may massage you and help you focus your breathing and she may help you with breastfeeding your baby, but her real strength comes from being able to support women who have chosen to have a natural birth rather than to use anesthesia.
Questions you should ask a prospective Doula
What are your qualifications and training?
Are you a certified Doula? If so with which institution?
Have you had a baby yourself?
What is your childbirth philosophy?
What kind of plan would you use to help us through our labor?
Are you available to answer any questions before the birth?
Are you experienced in helping moms breastfeed?
How will we get hold of you when I go into labor? What if you are not available?
What is your fee and what does it include?
If you and your partner have chosen to use a doula when giving birth, then it is important that you inform your healthcare provider of your decision. Some doctors feel that a doula will only cramp the space, and some may even be able to give you the contact details of a doula that he or she has worked with before. If you are looking for a Doula try looking at
Doula Network.Com
to find one in your area.
Please note: The information provided on this website is not intended to and do not constitute professional medical advice, diagnosis, or treatment. Always seek the advice of your physician or other qualified health provider with any questions you may have regarding a medical condition. Never disregard professional medical advice or delay in seeking it because of something you have read on this website.