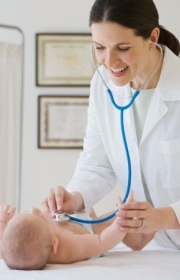 As you approach the end of your pregnancy you may want to start looking around for a paediatrician if you don't already have one. We have some of the top questions you will want to ask a potential paediatrician. It may be a good idea to setup an "interview" with a potential paediatrician. You may want to book an appointment 3-4 weeks before your due date. When you book your appointment be sure to tell the receptionist that you are expecting a baby and are interviewing potential pediatricians.
What is your philosophy about child rearing? You may want to include in these types of question as part of the child rearing philosophy:

Do you support breastfeeding?
Should babies sleep in the same bed as their parents?
At what age do you think you should begin to wean your baby?
What are your thoughts on medicating children and antibiotics for children?

How much are your hospital charges and fees for office visits?
Does a pediatric nurse practitioner work in the office?
Do you charge for phone consults?
Do you return every call?
In some cases the paediatrician will return all calls and others may have members of staff return the calls.
How long are your appointments? The shorter the appointments are, such as 10-15 minutes the more chance you have of waiting around, and also be rushed through your appointment. A good appointment time is 20-30 minutes.
How frequently do you see baby in the first year A good paediatrician will also schedule 'well child' appointments, rather than just seeing your baby when he/she is sick all the time.
Do you have a "sick-child" waiting room? If your paediatrician also has 'well child' appointments, then they may need to have a different waiting room for healthy children and sick children. If you share a practice, will I always see you?
Do you have evening or Saturday hours?
Please note: The information provided on this website is not intended to and do not constitute professional medical advice, diagnosis, or treatment. Always seek the advice of your physician or other qualified health provider with any questions you may have regarding a medical condition. Never disregard professional medical advice or delay in seeking it because of something you have read on this website.