New Rules For Exercise During Pregnancy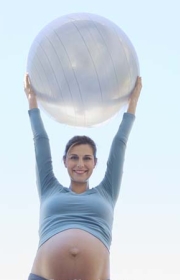 New Rules To Exercise and Pregnancy As medicine and technology has improved over time, there have been some changes to some of the "rules" which guide you towards having a healthy pregnancy. Old Rule: Be sure to avoid all strenuous activities New Rule: Stay as fit and as healthy as you can during your pregnancy There are definite advantages to following a regular exercise routine while pregnant. The hormones which run through your body while pregnant have the tendency to soften your joints – making it more likely to cause harm to your body. Exercising during your pregnancy will help keep your body flexible and your joints supple, but there are other advantages as well:
It lifts your moods, energy levels and increases your stamina
It will help your sleeping patterns and allow you to sleep better
Helps to reduce pregnancy niggles – such as backache, constipation and nausea
Reduces the chances of premature birth delivery
Prepares your body for childbirth
New Rule Exercise Plan
It is important to find an exercise or activity that you have an interest in, or that you enjoy doing.
Walking
,
Yoga
or
swimming
during pregnancy are all popular activities, and can be enjoyed through the course of your pregnancy. Refrain from doing in high impact sports though – so marathons and horse riding are out of the question. Speak to your healthcare provider about any exercise plans that you have, and sure that you are aware of the
warning signs when exercising while pregnant.
Please note: The information provided on this website is not intended to and do not constitute professional medical advice, diagnosis, or treatment. Always seek the advice of your physician or other qualified health provider with any questions you may have regarding a medical condition. Never disregard professional medical advice or delay in seeking it because of something you have read on this website.