The Run Down On Cloth Diapers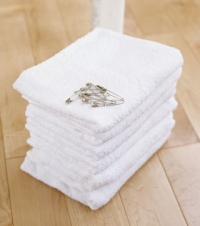 Thanks to the recent "green" way of thinking, people are starting to look more seriously into alternatives to disposable diapers. Cloth diapers have come a long way over the past decade and are nothing like the cloth diapers of the past. There are also quite a few different styles of cloth diapers, so you can pick the type that best suits you and your baby's needs. Not only are cloth diapers better for the environment, they are much easier on your wallet too. Yes, the initial cost will seem quite high, but if you work out how much money you will be spending in disposables over the years, you will realize just how much money you can save in the long run. If you are not sure whether you want to try out cloth diapers or are unsure about what types are how there, here is a list of some of the common types of cloth diapers that are available on the market today. Most places even offer sample kits that include just enough diapers and accessories to try out the cloth diaper alternative before investing in a complete set of diapers.
Cloth Diapers – The Basics Of The Varieties
Keep in mind that when we talk about cloth diapers, there are two parts to a cloth diaper…the inner layer for absorption and the outer waterproof layer (cover).
Flat diapers – These are the original style of cloth diaper that your mom or grandmother used to use. They consist of a single layer of material shaped like a rectangle, which is usually 100% cloth. These diapers require folding and pinning in order to shape them to fit the baby. They will require a waterproof cover over the top.
Prefold diapers – These are similar to flat diapers except they have multiple layers of absorption, with thicker layers towards the middle of the diaper. These are available in different sizes and can be pinned or folded to fit underneath a waterproof cover.
Fitted diapers – These diapers look just like disposable diapers, with elastic waste and legs, but are made from cloth. They have either snap or Velcro type fasteners and are made from either cotton or hemp. Some of them may come with an attached doubler, which is an extra layer of cloth for better absorption. These diapers come in various sizes or you can even buy ones that are adjustable and grow with your baby. This is a great way to save money since you only need to get one size. You will need to use a waterproof cover over these diapers.
All in ones – These diapers are just like the fitted diapers, except they have a built in cover over the top.
Pocket diapers – These diapers have a pocket sewn into the diaper where you insert a layer of material (an insert) for absorption. This gives you the flexibility to use a layers made from various different materials, some of which are better absorbers than others.
Diaper covers – You will need these for all of the cloth diapers, except for the all in ones. They are made for several types of material so you can choose which you prefer for your baby. Some covers will be Velcro type or snap enclosure and others will be a pull on style. The snap enclosures usually have several snaps so that you can adjust the size correctly.
Cloth Diapers Accessories & Must Haves
Now that you know the basic styles of cloth diapers that are out there, you should also be aware of a few other items you can get to go along with your cloth diapers to make this type of diapering less of a chore.
Liners – Liners are added into the diaper to help make poop clean up much easier and less messy. You can either buy ones that you rinse and then wash with the diapers or they have disposable ones you just toss into the toilet. There are even some disposable ones out there that can be hand washed and reused several times before disposing. Liners are made from a variety of different materials so shop around to see what works best for your baby.
Doublers – If your diaper doesn't already have a doubler attached, you can buy doublers that to insert into the diaper for extra absorption. These are great for nap times or overnight when your baby will go for longer periods without being changed.
Cloth wipes – You can even buy cloth wipes to use instead of disposable wipes. Just toss these into the wash with the diapers. When you are trying to decide on which cloth diaper to use, make sure to read the manufacturers suggestions on how to clean and care for them. Some wash and dry easier than others depending upon what they are made from and how thick they are.
Most sites & shops that sell cloth diapers have step by step instructions on their care and use so it's wise to do your research ahead of time before making the investment.
Please note: The information provided on this website is not intended to and do not constitute professional medical advice, diagnosis, or treatment. Always seek the advice of your physician or other qualified health provider with any questions you may have regarding a medical condition. Never disregard professional medical advice or delay in seeking it because of something you have read on this website.