Exercise During Pregnancy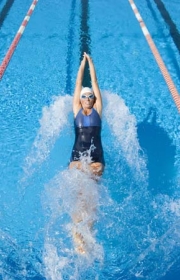 The benefits from exercising during your pregnancy are numerous, as long as it is done in a sensible manor. Training for the Olympics or a long distance marathon while pregnancy is definitely out of the question.
If you have been following a regular exercise program before your pregnancy then it should be possible to you to continue to follow the same routine with a few modifications.
If you haven't been following a regular exercise program then it is advisable to start off slowly and work your way into a regular exercise plan.
What are the benefits of exercise during pregnancy?
Reduces the effects of stretch marks
Keeps your weight gain steady
Improves your breathing
Feel better during your pregnancy
Able to sleep alot better at night
Toning your muscles may lead to an easier delivery
You will regain your pre-pregnancy figure much faster
Which is the best exercise during pregnancy?
Swimming
Swimming is one of the best forms of exercise during your pregnancy. The support and buoyancy you receive when swimming will help to take the extra weight off your body.Swimming will also give your body an all round exercise and is one of those exercises you could start at any time during your pregnancy. Just be sure not to overexcert yourself!
Bicycling
Be careful when cycling during your pregnancy as a bad fall could definitely harm your baby and yourself. A stationary bike would be a much better idea for your own safety.
Walking
Walking two miles at a good pace while pregnant is a good target to try and gain. Walking may also be a good time for you and your partner to get to spend some time together, while the exercise and fresh air will make you both feel better. You may find that you may need to reduce your pace of waking as your pregnancy progresses.What ever exercise you choose to do during your pregnancy, make sure you keep an eye on taking in plenty of fluids. Just as a precaution, run by your intended exercise routine with your healthcare provider.
Benefits of Exercise During Pregnancy